AGILE Mobile: How TK Elevator Makes Your Building Digital
Jon Clarine, Head of TK Elevator's Digital Services
­
"Agile started as a configurable kiosk for Destination Dispatch, and we've now extended the kiosk to a smart device. That allows users to place elevator calls using their smart device. This was of a lot of interest during COVID with the need for touchless, but of course now it's amenity to the building because now you can put some personalization for the occupants so they can call elevators and program those elevators to match their daily routine."
The mobile solution can be applied to existing two-button elevators, as well as those with Destination Dispatch. AGILE Mobile can be added to any building with a modern elevator control system, at any point in its lifecycle. "No matter what type an elevator a customer has, and no matter how high it goes, AGILE Mobile can serve that elevator."
AGILE Mobile is available on the App Store and Google Play Store, or building occupants can integrate the functionality into their own apps with an available API. Buildings managers can create applications that allow occupants conference room bookings, guest management, service requests as well as elevator dispatch.
Auto Lift "Seamless, flexible identification of users and prompting them to their location so they can ride elevators without having to stop, without having to congregate, without having to think"
This helps you have differentiated buildings from anyone else in their city. Latest and greatest allows buildings to have the greatest premium and the highest occupancy.
AGILE Mobile is governed by beacons in the building, which detects users as they enter the elevator lobby and automatically prompts them to their floor. This seamless technology is unique to TK Elevator.
AGILE Mobile in Action
TK Elevator's associates are at the frontline of elevator technology. Our sales associates connect customers to innovative solutions that improve building efficiency.
Kathleen Oliver, one of our sales associates from Denver, CO, shares her experience visiting one of the first AGILE Mobile installations in North America.
TK Elevator is home to many innovative individuals, whose brilliant minds are responsible for creating new products that make us one of the leading companies in the elevator industry. AGILE Mobile is one of the revolutionary products that TKE has developed to reduce wait times and increase building efficiency. Yes, this touchless technology is truly revolutionary.
I had the opportunity to be involved with one of the very first AGILE Mobile installations in North America. The installation took place in an elegant high rise office building in downtown Denver, CO. Over the course of two days, Modernization and Service Technicians were able to learn about AGILE Mobile software and the easy installation process.
This high rise was equipped with over 90 Bluetooth beacons to pick up AGILE Mobile calls. We took turns learning how to sync individual beacons to each floor and the corresponding bank of elevators. Each bank required two beacons per floor to ensure adequate transmission of data. After placing beacons throughout the building, the anticipated moment of seeing AGILE Mobile in action had arrived.
I downloaded the app and requested clearance for the building. AGILE Mobile was not only able to tell me what building I was standing in, but what floor I was located on. The app asked where I would like to go, and I selected floor 15. Within seconds, I was directed to a specific car that would take me to my destination with the fewest number of stops along the way.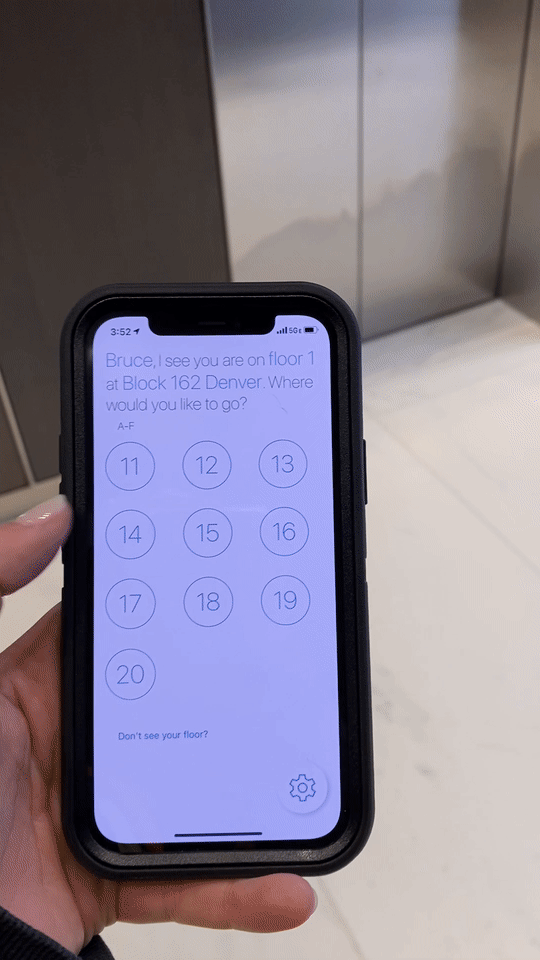 It is mind blowing to think that a piece of technology, no larger than a silver half dollar, could be responsible for calling an elevator via radio waves from a mobile device. TKE has made it easy to add sophistication and convenience to any building and elevate tenant experience.